By Jon Nordmark
As Iterate's CEO and cofounder, I recently had the privilege to land in Great Britain as a representative of the city of Denver for the annual London Tech Week— an international whirlwind of 58,000 attendees and more than 300 events that brought together executives from all over the world.
There's good reason to showcase London: It's home to 40 of the largest 100 companies in Europe and in the foreseeable future, the city will remain a financial and economic powerhouse for companies of all sizes— from retail and pharma to government and tech startups. WeWork alone has 47 facilities in London. Therefore, Brexit or not, this is a vast market.
A quick snapshot of London:
We discovered two startups with emerging technologies that the Iterate Curation team is vetting for you now. For instance, one claims to have saved a single enterprise customer at least $70 million in a year. More details on those technologies to come!
So what did Iterate learn while we were there?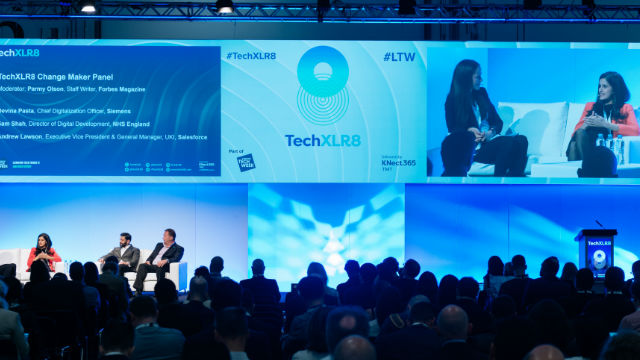 We witnessed first-hand how artificial intelligence and mixed reality are poised to transform advertising, merchandising, political persuasion, personalization – for both good and bad. This technology makes avatars that look and behave so eerily like real people. Magic Leap, for instance, showed a woman whose eyes, lips and voice might as well have been real. Apple, Google, and Microsoft—and even less well-known firms like Vuzix— are either developing this tech or already have it in the market.
The impact of this technology – combined with synthetic voices – could be astounding. In brief, it could influence everything from product advertising and political campaigns to AI- and AR-based personal assistants.
The other big takeaway for me underscored just how large companies are embracing emerging technologies to diversify and enhance their reach.
Touching Customers Outside Traditional Avenues
The best example was the Premier Football (Soccer) League. Today, almost half of their viewership streams the games through sites like YouTube. They also own a rapidly growing eSports league and Fantasy Sports League that their CEO talked about at length. Creating multiple touch points and a variety of viewing opportunities has become a core competency of top organizations like this one. Rather than sit back and wait — they also take leadership positions in these emerging markets.
Our trip involved meetings with the person leading the Brexit negotiations with the United States, the U.K.'s Secretary of State for Commerce (Dr. Liam Fox) the London Stock Exchange and a handful of London Tech Week events, meetings with a law firm and a number of interesting startups.
A shout out to our fellow traveling companions and our sponsors:
---